December 4, 2009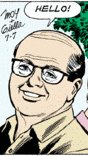 Exciting news!
Everyone's favorite advice columnist/single dad Wilbur Weston has taken time out of his busy existence at Charterstone, and joined Facebook!
Check out his profile!  Become his Facebook friend!
This is your opportunity to get inside the mind of one of the most boring characters to ever grace a comic strip.  Don't miss out!