November 18, 2009
Spider-Man – 11.18.2009


The criminals in Spider-world are about as dumb as they come.  Fortunately for them, the cops and super hero that also inhabit the tow give them a run for their money.  While the amazing Spiderman holds off on saving the day so he can setup his camera and make a few bucks, the bad guys are escaping the bank, avoiding the cops who apparently haven't realized that if they take a few steps to the right, they'll have a nice clear shot.  Speaking of which, is it standard protocol to fire indiscriminately at bank robbers?
Hopefully, we'll see the return of Super-Pigeon when Spiderman comes back to collect his camera.
Close To Home – 11.18.2009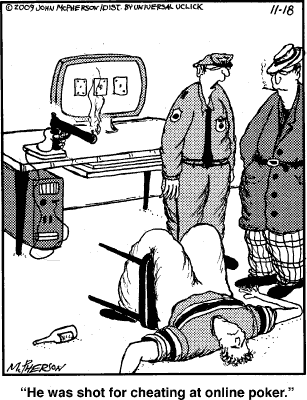 Wait, what?  So he setup a gun to shoot himself?  He's playing some strange type of three-card poker, and he gets shot with a USB pistol.  And how exactly does one cheat at online poker?  Meh.
LuAnn – 11.18.2009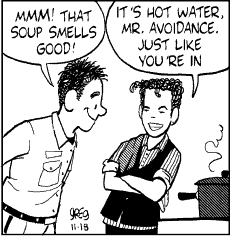 …and this wins the award for creepiest panel of the day.  A special prize goes to whoever comes up with the best alternate speech bubble text for this one

And finally, Comic Strip Archive is now Twittering.  Be the first one on your block to follow us on Twitter!