January 20, 2009
So it's inauguration day, and the whole world is excited, even the comics page!  I was actually surprised that there were relatively few comics regarding the inauguration, considering how so many comic strips like to delve into politics from time to time.  Even the political daily strip, Doonesbury, mentioned nothing about President Obama or the inauguration – opting to discuss cell phone ring tones.  By my count, six daily strips took on the swearing in of our new Commander in Chief:
Some comic strips actually sent their characters to Washington DC for the event:
Curtis – 01.20.2009


The Brilliant Mind of Edison Lee – 01.20.2009


Prickly City – 01.20.2009


Zippy the Pinhead – 01.20.2009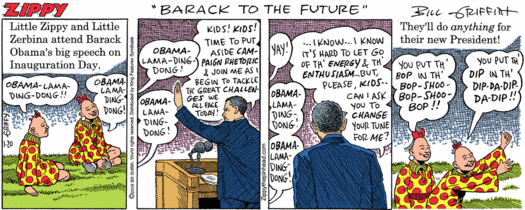 Hi and Lois watched it on television:
Hi and Lois – 01.20.2009


….and of course, Mallard Fillmore is still bitter.
Mallard Fillmore – 01.20.2009


I think his point is at least somewhat valid, but you would think on a historic day like this, he could take somewhat of a respite.  Apparently not.
Happy Inauguration to all!