January 27, 2009
Spiderman – 01/27/2009


It's not enough that Spiderman has been moping around for the past week because his camera was broken(he secured it to the ledge of a building with his webbing, but his webs were no match for Super-Pigeon).  Now Electro is whining about losing the money he stole.  Instead of actually doing any fighting, these two will just see who can complain the most.  Eventually, one of them will probably do something stupid and defeat themselves, and the other one can claim a 'sort-of' victory, and go back to watching television.
Family Circus – 01/23/2009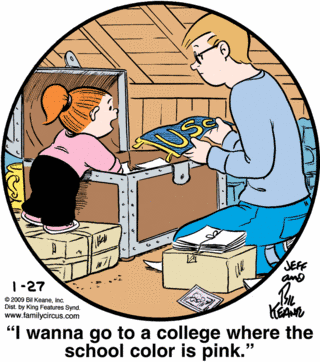 Meanwhile, the Keane's are cleaning out the junk from their attic.  So did Papa Keane attend this USC or this USC – or maybe this one?  Either way, it looks like Dolly will be attending Sweet Briar University, a women's college in Virginia.