November 19, 2009
Archie – 11.19.2009


This reminds me of my highschool days, when our grades went A-E.  An "E" meant you failed.  It seems for most students, the latter grades skip over "E" entirely, and go straight to "F".  I don't think I've ever met anyone that wasn't from my hometown that ever received an "E" on a test for failing – until now!  Perhaps Archie Andrews and I attended the same high school.
Lockhorns – 11.19.2009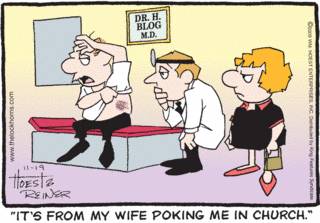 Lie all you want Leroy, but Dr. Blog isn't fooled and Loretta is pissed.  Your poor acting job is going to get you some more "poking" when you get home.